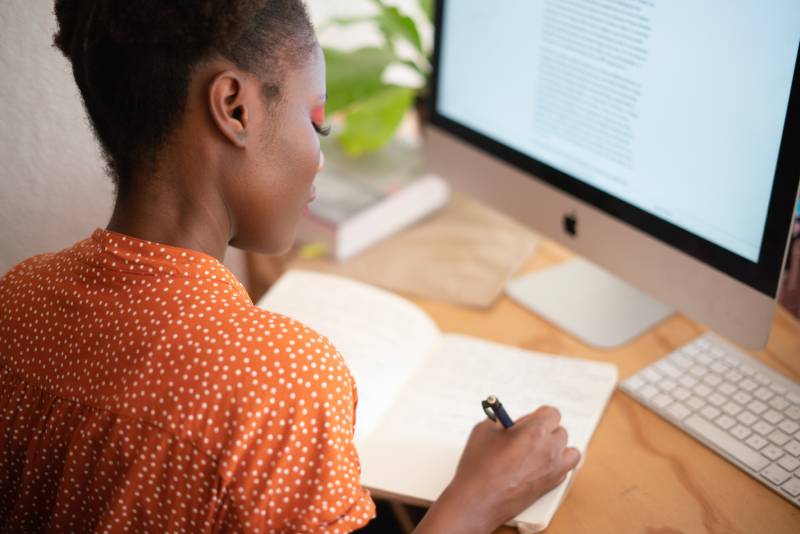 The Coronavirus pandemic has lead to many countries introducing social distancing measures. Here in the UK, the government has said that everyone must stay at home to help slow the spread of Coronavirus, only leaving the house for limited purposes, such as shopping for necessities or to exercise outdoors once a day.
To comply with these measures, many are now working from home. It is estimated that before the Coronavirus measures, around 1.5 million people worked from home, but for many of us this may be the first time we have worked from home for a prolonged period.
In these unprecedented times, many of our normal routines have significantly changed and this can make it harder to sustain healthy habits. To help with this, we have listed some simple ways you can stay healthy whilst working from home.
Creating a healthy work schedule
When working from home, many of us feel the pressure to work longer hours than we would in the workplace and this is especially true in lockdown. With time outside limited, many may feel like spending longer at work is the best way to use their time.
Although for some people this may be true, working too many hours can lead to burnout. It is important when working from home that you create a healthy work schedule that incorporates regular breaks and time away from screens – both of which can help maintain productivity and reduce stress levels.
A schedule should include a start time, breaks, a lunch break and a finish time. Parents or carers may also find they are unable to work effectively during normal work hours due to other responsibilities and these people should consider talking to their employers about flexible working hours so they can ensure they are as productive as possible when working from home.
Create a comfortable workstation
Some of those working at home will have home offices or desks which make it easy to set up a comfortable workstation, but for others, workstations have had to be created in less than ideal environments.
Working in an unsuitable space can be damaging to our physical health, for example a poor seating position may lead to back or neck pain. Whilst creating an ergonomically compliant workstation may not be possible, there are steps we can all take to make working at home more comfortable and to prevent injury.
Avoid sitting on the sofa. Sofas are great for watching Netflix and relaxing, but they can often lead to very poor working postures – especially when using devices such as laptops. If you do not have a desk, try to use an existing flat surface such as a kitchen worktop or dining table. When it comes to seating, try to find a chair and computer position which follows general ergonomics guidance.
Position a computer or laptop screen so the top of the screen is in line with the eyebrows, using books to adjust the height of screens. This positioning helps to prevent slouching and a poor sitting posture. When sitting in a chair, ensure it allows you to pull yourself into your desk or workstation and you are able to place your feet flat on the floor. Try to position keyboards as close as you can to your arms so that stretching can be avoided, as this can cause shoulder strain.
Stay active
Coronavirus lockdown measures mean that we now have to stay indoors for the majority of the time and can only leave our homes for 1 outdoor walk or exercise activity per day. This can make staying active very difficult, especially if before Coronavirus you attended a gym or fitness classes.
Staying active is important to our physical and mental health. In times of stress, it can be difficult to be motivated to be active, but exercising releases endorphins which help to improve mood. There are many online fitness videos and classes available, many of which are free and are specifically designed for those exercising at home without equipment.
If working from home, try to incorporate physical activity into your breaks. Leaving your desk and being active can help to undo mind blocks so we can be more productive when returning to work tasks.
New eating habits
Self-isolating and working at home can lead us to snack more than we would in office environments. Add to this the stress of Coronavirus uncertainty and unusual routines, and many of us might find ourselves eating unhealthily.
To stop unhealthy eating, try to plan meals. Just as with working, a routine can help to break bad habits. Try new recipes and incorporate healthier meals which you might not have had time to try before lockdown measures.
There are numerous free, healthy meal plans and recipes online, many of which have released special recipes for those in lockdown. The stay-at-home measures mean we should try to avoid shopping daily and also means that we might not be able to buy the foods we previously ate. This provides an opportunity to try new recipes and create new meals from the staples or foods we already have in our cupboards.
Stay connected
Being in lockdown can be very isolating, especially if you live alone. Technology has proved to be invaluable in helping us to connect with each other without physical contact, as we comply to stay-at-home measures.
When working at home, try to stay in regular contact with work colleagues via phone and video calls. This can help us maintain previous connections and reduce the stress of working in isolation. Many workplaces are also striving to maintain work social activities digitally. Instead of work drinks in the pub, many are now taking part in Friday work drinks using group video calling apps such as House Party, Skype or Face Time.
To help beat feelings of loneliness, use technology to maintain regular contact with friends and family. As with work colleagues, try to create times you can all talk and video call.