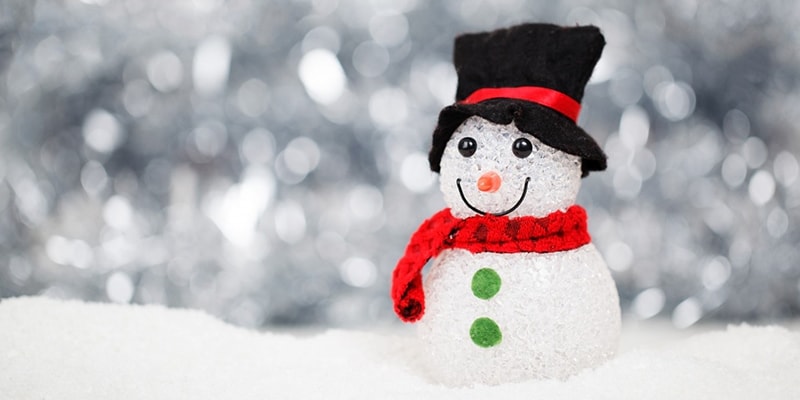 Christmas is a time of indulgence – but many of us can easily overindulge and find ourselves having to cut back dramatically in the New Year. We think you can still enjoy the holiday season and look after your health with a balanced approach. In this article, we'll discuss a few strategies you can try to stay as healthy as you can be this holiday season.
It's estimated that the average person will consume 6,000 calories on Christmas day – three times the average recommended daily amount for women! If you combine that increased number of calories with the other extra indulgences we enjoy in the run-up to Christmas, it's no surprise many of can be shocked when we step back on the scales in January.
As we mentioned above, being healthy is not about missing out – but instead trying to balance out what we consume and moving a little more when we do have an extra treat (or 10).
Start the day right
If you're planning to enjoy festivities in the evening – think about starting the day with a healthy, balanced breakfast. Porridge is a great way to start the day and can help control snacking urges until lunch and dinner. 
A bowl of warm oats can help to lower blood sugar and cholesterol levels. Porridge also contains a high number of vitamins, minerals and antioxidants – including; iron, zinc, vitamin B1 and phosphorus.
Fight hangovers
December is often the time of year when we party the most, and for many us, that means hangovers.
The first step to fighting a hangover is prevention. Make sure you eat well before you consume alcohol, so your body has the nutrients it needs to detoxify. When it comes to making the right choices when drinking, try to stick to one type of drink if you can. Picking a light-coloured alcohol can also help stave off hangovers – as they are said to contain a lower amount of headache-inducing chemicals.
When you are drinking, try to alternate alcoholic drinks with non-alcoholic options such as water or juice. And remember, to always consume alcohol responsibly.
Refuel
If you do have a hangover, try to refuel your body with the right nutrients. Eggs make the perfect hangover breakfast as they contain choline – a nutrient which helps to support the liver.
Fruit and vegetables can also help your body recover after a heavy night. Mushrooms contain B vitamins, and spinach contains folate – both of which can support your body recover. Smoothies are also a great option – as they're easy to make. Blend up your favourite fruits and vegetables to replace the electrolytes your body may have lost.
Stay active
It can be hard to stay motivated in the winter months. The nights are longer, and the cold weather can mean most of prefer to hibernate on the sofa. If you want to have a healthier Christmas, try to stay as active as you can.
Organise family walks at the weekends. They can be a great way of making sure you keep your body and can also make great memories. If the outdoors isn't calling your name, try incorporating indoor activities such as swimming or yoga classes.
Colds and flu
December means Christmas, but it's also the season of colds and flu. It's not too late to get a flu jab, most pharmacies and GP surgeries offer this service for a small fee (if you're not entitled to a free service).
You can also help prevent the passing of cold and flu viruses by making sure you wash your hands regularly and by staying as healthy as you can. The healthier you are, the more likely your immune system is going to be strong enough to fight off potential viruses. Make sure you eat as healthily as you can, get enough sleep and try to avoid hangovers.
It's about balance
The key to staying healthy at Christmas is balance. Don't punish yourself if you have a bad day. Try to make good choices when you can – and enjoy the holiday season. For most of us, December is the time of year where we can relax and enjoy being around family and friends – so it's not a surprise that our health can be put on the backburner.  
If you want to get a head start on renewing or starting health insurance cover in 2020, don't hesitate to contact us. Here at The Health Insurance Specialists, we're always on hand to help you find the right health insurance policies – even in the run-up to Christmas. Don't hesitate to call our friendly team or fill in our online form and we'll call you back.